The Hall of Memory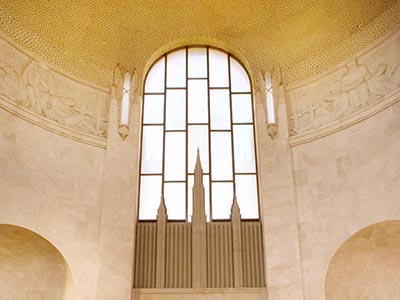 Photo by Rob Tuckwell
The Hall of Memory is the main feature of the Anzac Memorial. It is a circular space 48' (14.63m) in diameter with a domed ceiling 85' (26m) above. 'The Hall of Memory is impressive in its grandeur, and is notable for the great constellation of Stars of Memory which grace its dome' from The Book of the Anzac Memorial (1934). The Well of Contemplation is located in the centre of the floor of the Hall of Memory. From the balustrade surrounding the Well of Contemplation general service badge the visitor can look down on the statue Sacrifice
Four Niches of Remembrance are spaced evenly around the edge of the Hall of Memory. Each of these niches is 26' (8 m) high by 12' (3.7 m) wide. The Book of the Anzac Memorial describes the interior of the niches as 'inscribed [with] the names of the more important battles in which the AIF participated. On the floor of each niche, set jewel-like in the rising sun of the Australian forces, are stones taken from overseas – from Flanders and Gallipoli, from Palestine and New Guinea.
On the marble walls of the interior are bas-relief panels depicting the Army, the Navy, the Air Force [sic] and the Army Medical Corps. These bas-reliefs, which depict the figures of men and women resting after their hardships, are further enhanced by the passing figures in low relievo symbolising the March of the Departed – those whose lives were swallowed in the vortex of war.'
The Hall of Memory is illuminated by amber glazed windows, one on each side, engraved with a motif depicting a stylised rising sun symbol, the general service badge used by the Australian Imperial Force. The golden light from the amber windows represents the hope of tomorrow.