Image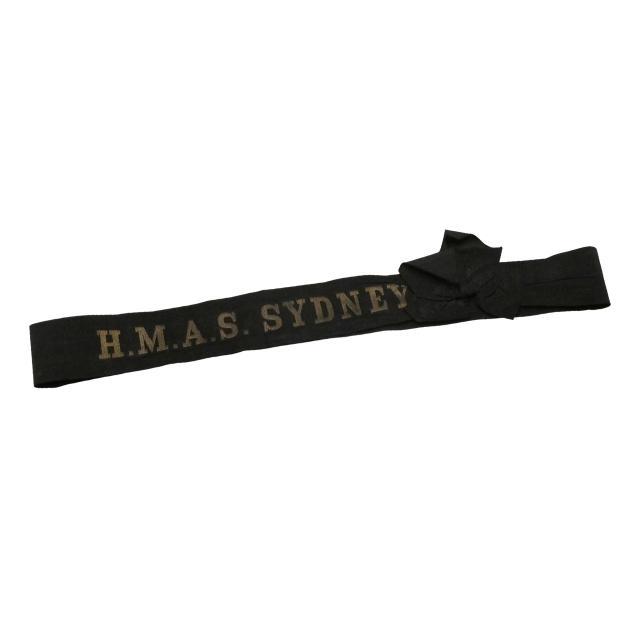 Historical note
Black silk sailor's cap tally band with the ship's name, HMAS Sydney embroidered in gold.
The tally band originally belonged to Stoker Alan Douglas Spencer Coates RAN, who gave it as a gift to Elsie Peterson from Albany during his visit there in 1937. From the Sydney suburb of Ashfield, Coates joined the Royal Australian Navy earlier that year and was serving aboard HMAS Sydney when the vessel docked in Albany in September 1937. It is likely that the tally band became a gift on Friday, 24 September 1937.
Coates served on HMAS Sydney before the war as a stoker and was still serving aboard the ship when the Second World War broke out. He was on HMAS Sydney in the Mediterranean in 1940 and early 1941 and would have been aboard the ship during the famous action off Cape Spada with the Bartolomeo Colleoni.
Coates returned to Australia and transferred to HMAS Adelaide after a period of further training. As a result, he was not aboard Sydney when the vessel was lost with all hands off the Western Australian coast on 19 November 1941.
He served on HMAS Adelaide during its time as a convoy escort across the Indian Ocean and appears to have been aboard the vessel during the battle with the German blockade runner MV Ramses in 1942. By that stage of the war, he had risen to the rank of Stoker Petty Officer. He remained on small ships and shore stations around Australia and in the South Pacific for the remainder of the war and was discharged from the Royal Australian Navy after completing 12 years.
Materials
silk, embroidered
Conflict
Second World War (1939-1945)