Image
Historical note
Dr George Redfearn Hamilton came from a prominent Sydney family and was the son of the eminent judge and parliamentary draftsman, Hugh Montgomerie Hamilton (1854-1932.) GR Hamilton was educated at North Shore Grammar and the University of Sydney, where he graduated as a doctor in 1916.
Later that year, he enlisted with the Australian Army Medical Corps after spending the previous twelve months as a Lieutenant with the 25th Voluntary Infantry. Promoted to Captain, he embarked for overseas service in January 1917 and arrived in France in June the same year. He served with various units on the Western Front including the 1st Australian Field Ambulance, the 4th Battalion as RMO and the 1st Machine Gun Battalion.
Seriously wounded on the Somme on 25 August 1918, he was invalided back to England where he spent ten months recuperating in hospital. Hamilton used his time in England well during 1919 and 1920 and continued his medical training. He also visited the USA on his return to Australia where he received further training.
In private practice back in Sydney, Hamilton became a skin specialist. Fascinated with aviation after the war, he was killed along with school friend and fighter ace Captain Les Holden MC when their aircraft crashed on a Sydney-to-Brisbane mail flight at Byron Bay in 1932.
Detail of tunic belonging to Captain George Redfearn Hamilton, who served in the Australian Army Medical Corps.
Image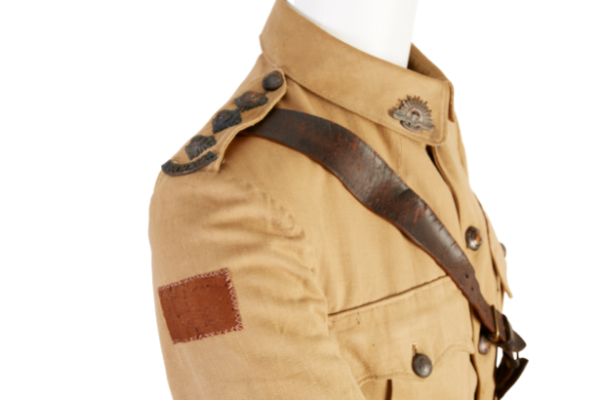 Conflict
First World War (1914-18)