Original construction
The task of constructing the Anzac Memorial was awarded to the contractors Kell and Rigby. The board of Trustees specified that the memorial was to be built with Australian materials and by Australian workmen. Having been encouraged to give preference to returned servicemen, Kell and Rigby applied for their workers from the Returned Sailors' and Soldiers' Imperial League of Australia (RSSILA) Labour Bureau. The RSSILA is now known as the Returned & Services League of Australia (RSL). Many subcontractors also worked on the Memorial.
Centenary Project construction
The NSW Government and Anzac Memorial Trustees are pleased to announce the successful head contractor responsible for Centenary Project construction. Built, an experienced heritage builder, will ensure the quality of this significant Centenary of Anzac legacy project. 
Built recently completed the refurbishment of the Australian War Memorial's First World War Galleries in preparation for the Centenary of the Gallipoli landing. Built also completed the refurbishment of the heritage-listed Gowings and State Theatre buildings in 2013, and has been awarded the contract to design and build Sydney's newest residential tower, One30 Hyde Park.
What to expect during construction
Hoardings enclosing the Anzac Memorial Centenary Project construction area will be installed in August 2016.
The hoardings will display a series of graphics to give a sense of the breadth on interpretation presented in the Memorial's new facilities. Photos of the construction of the original Memorial and its sculptures will be presented alongside images depicting the span of NSW military service from the colonial conflicts to contemporary Afghanistan.
All efforts will be made by the project team to minimise disruptions to commemorative services.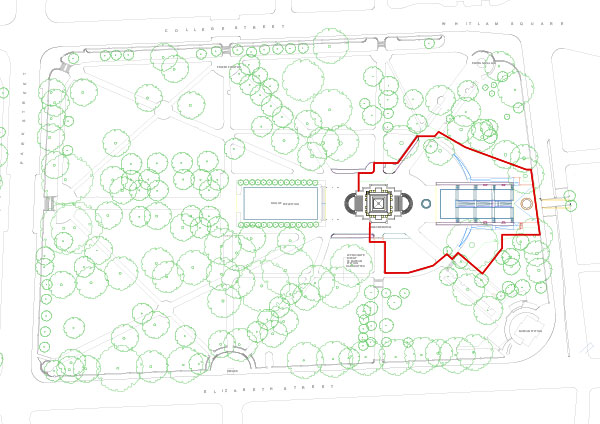 Access
The public will be able to access parts of the Memorial throughout all the phases of construction. Entry points may change but will always be clearly sign posted. Pedestrian paths will be modified within the Memorial's precinct in Hyde Park South in collaboration with the City of Sydney to avoid construction zones yet ensure the public's access and enjoyment of Hyde Park will be maintained. 
Standard work hours
Monday to Friday: 7am - 7pm
Saturday: 7am - 5pm
Some night works, including the delivery of pre-cast beams, will be required. Construction equipment will be delivered onto the site via Liverpool Street, with all efforts made to minimise impact on local traffic.