In 2020-21, veteran and artist Cory Rinaldi served as the Anzac Memorial's first Veteran Artist in Residence. The trial program sought to provide the time and space for a veteran artist to creatively explore the Anzac Memorial and to reflect on their own service and sacrifice, to help ensure that contemporary military experiences are interpreted for today's audiences.
Cory's residency at the Memorial culminated with an exhibition of his works in 2022, A Soldier's Healing.
You can purchase a copy of the exhibition catalogue, as well as selected exhibition prints, from our online shop here.
 
Image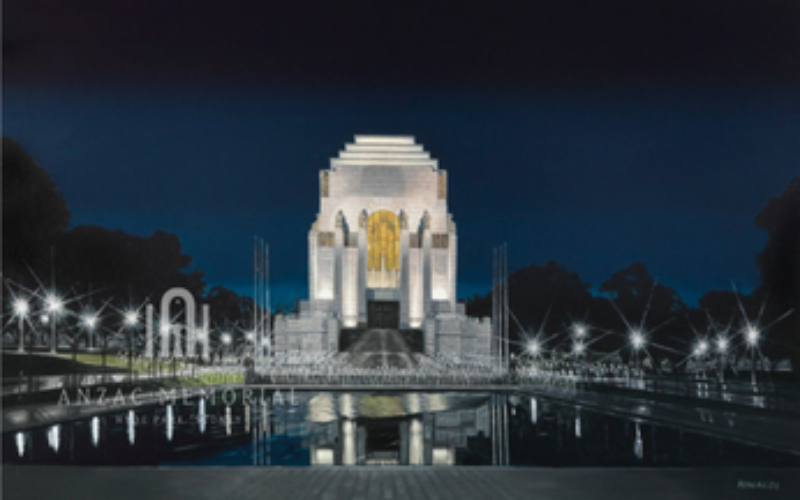 Cory Rinaldi: veteran and artist
Born in Maryborough, Victoria in 1974, Cory embarked on an artistic career after high school, completing a year of a Certificate of Art and Design at the then-known Loddon Campaspe Institute of TAFE in Bendigo. He was accepted to a Bachelor of Graphic Design and Applied Photography at Latrobe University, completing his degree at Deakin University in Victoria.
Cory fulfilled another childhood dream when he joined the Army Reserves in 1996 and Australian Army in 1999. His almost 20-year military career saw him deployed to Butterworth, Malaysia, twice to East Timor, and to Basra, Iraq on exchange with the British Army.
After being diagnosed with Chronic Post Traumatic Stress (PTS) in 2013 and medically discharged in 2015, Cory used painting as his main form of rehabilitation.
Alongside his work as an artist, he has been a member of the Cronulla RSL sub-Branch since 2007, becoming one of the youngest RSL NSW sub-Branch Presidents in 2016.
Veteran Artist in Residence at the Anzac Memorial
In 1934, the Memorial building was erected for the use, benefit, rest or recreation of sailors, soldiers and nurses returned from the Great War. Keeping with this spirit, the Memorial today runs several programs for the benefit of current veterans while connecting them to the history of Australia's servicemen and servicewomen.
The Veteran Artist in Residence Program is one such program, that also recognises the strong historic connection between art and military experience.
The use of art to depict and record Australia's involvement in war and its impact has resulted in a vast collection of trench art, paintings, music and poetry. Art has also been an important tool in the rehabilitation and recovery of veterans that have been affected through their military career, particularly during active service.
The Artist in Residence Program provides a unique opportunity for artists with an Australian Defence Force (ADF) background to engage with visitors and develop creative works that interprets the Anzac Memorial's core values of Courage, Endurance, and Sacrifice.
Over the course of 12 months, Cory worked on a collection of paintings, taking inspiration from its architecture, collection and history to produce a corpus of work that offered his unique perspective on the Memorial and his experience in service and as a veteran.
'My residency enabled me to heal and face certain demons that haunt my dreams. The residency also challenged my artistic parameters and encouraged me to paint outside of my comfort zone. For someone who suffers from PTSD, that's a big deal.'
Image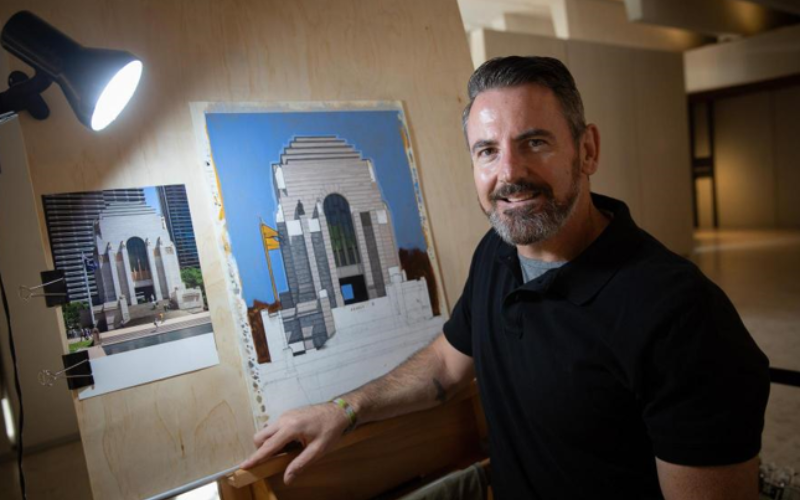 During his residency, and despite periods of the Memorial's closure during the COVID-19 pandemic, Cory also generously contributed his time engaging with Memorial staff and visitors, as well as sharing the progress of his work and story as a veteran artist on social media.
Cory's contribution has laid important foundations for a successful Veterans Artis in Residence program, which will enable many other servicemen and servicewomen the opportunity to heal through artistic endeavour and showcase their amazing talent. A tremendous legacy not only for his own journey, but other veterans who share a creative passion.
"Being the first official Artist in Residence I hope to set the platform [for a] successful program, so that many other service men and women can have the opportunity to heal and showcase their amazing talent."
The exhibition: A Soldier's Healing
In April 2022, the Memorial was proud to launch an exhibition to showcase the fruit of Cory's residency: A Soldier's Healing.
Comprising 18 paintings produced during his residency, the exhibition testified to Cory's immense creative talent and generosity in sharing his experience serving in the ADF and as a veteran with the public.
 
Image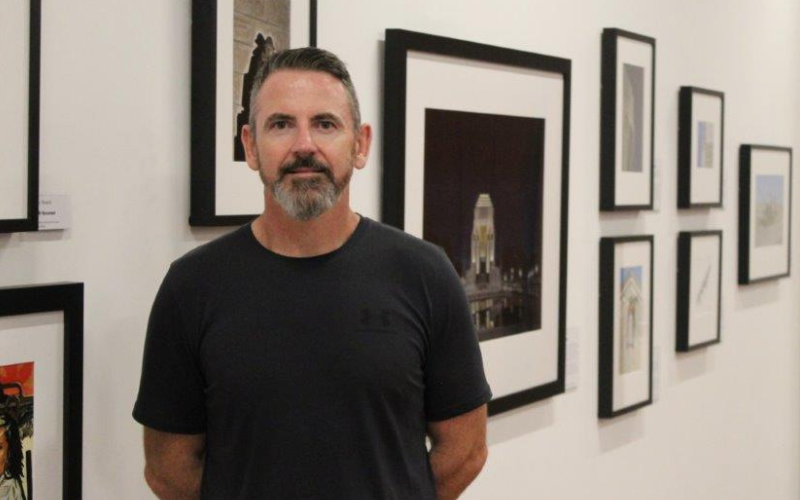 The exhibition was launched at a special event on 22 April, with speeches from the Minister for Veterans David Elliott and one of Australia's most acclaimed artists Wendy Sharpe (winner of the 1986 Sulman Prize and 1996 Archibald Prize, as well as official war artist during Australian operations in East Timor).
In 2022, the Veteran Artist in Residence program was recipient of a 2022 IMAGinE Award for Innovation and Resilience. 
Image
Video: Interview with Cory Rinaldi
In the video interview below, Cory talks about his experiences serving and some of the works that feature in his exhibition, A Soldier's Healing.