Image
STAGE 2: YEARS 3 & 4
Stories, Symbols, Senses
Duration: 1 hour | Cost: $12 / student. If less than 100 students, a flat fee of $1200 will apply.
Explore the significance of memorialisation, and look at the different ways we can remember through stories, symbols and senses. Students will experience a live reading and soundscape of the Story of the Lone Pine, transporting them back to Gallipoli in August 1915 through the story of a young man looking for his brother. Through a series of games, activities and discussions, students will explore symbols in their everyday lives, learning about the symbolism in the architecture of the Anzac Memorial Building and how it applies to major commemorative events. Students are left with a reflective exercise where they create a symbol for someone in their lives who has the same values as the Anzacs – courage, endurance and sacrifice.
Curriculum links: History K–10: Community and Remembrance; Creative Arts K–6: Visual Arts | Key inquiry question: How and why do people choose to remember significant events of the past? | Content: Days and weeks celebrated or commemorated in Australia (including Anzac Day) and the importance of symbols and emblems (ACHHK063) | Outcomes: HT2–1, HT2–5, VAS2.1, VAS2.4
---
Image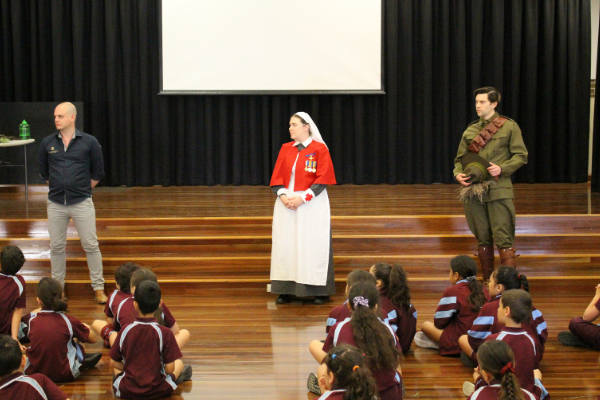 STAGE 3: YEARS 5 & 6
Voices of Valour
Duration: 90 minutes | Cost: $12 / student. If less than 100 students, a flat fee of $1200 will apply.
Students experience a live performance of Loyal Creatures by Morris Gleitzman, a moving, exciting and powerful story of a young man who takes his horse to war. Following the performance, students will discover the real history of the Australian Light Horse and the role they played in the First World War in Egypt and Palestine. Dressed in costume as a nurse, another actor tells the thrilling true story of the bombing of the Gloucester Castle, a hospital ship in the English Channel. This story is told from the perspective of Alice Cashin, a matron from Marrickville who was decorated by the King of England for her acts of bravery.
Through these two live theatre performances, voices of the past are brought to life, giving students an understanding of the human experiences of Australians serving in the First World War, and the significance of Sydney's Anzac Memorial. As a group, students work with the Memorial's Learning Team to build their own story based on history.
Curriculum links: English K–10: Stage 3 Creative Arts K–6: Drama Also incorporates History K–10 | Content: Speaking and Listening (EN3–1A) Writing and Representing (EN3–2A) Responding and Composing (EN3–5B) Thinking imaginatively, creatively, interpretively and critically (EN3–7C) Appreciating – Responding critically to a range of drama works and performance styles (DRAS3.4) Australia as a Nation – the contribution of individual groups to the development of Australian society (ACHHK116)
---
Image
STAGE 5: YEARS 9 & 10 | STAGE 6: YEARS 11 & 12
Bespoke
Cost: $12 / student. If less than 100 students, a flat fee of $1200 will apply.
Get in touch with the Anzac Memorial Learning team to see if we can create a special program for your school.
---