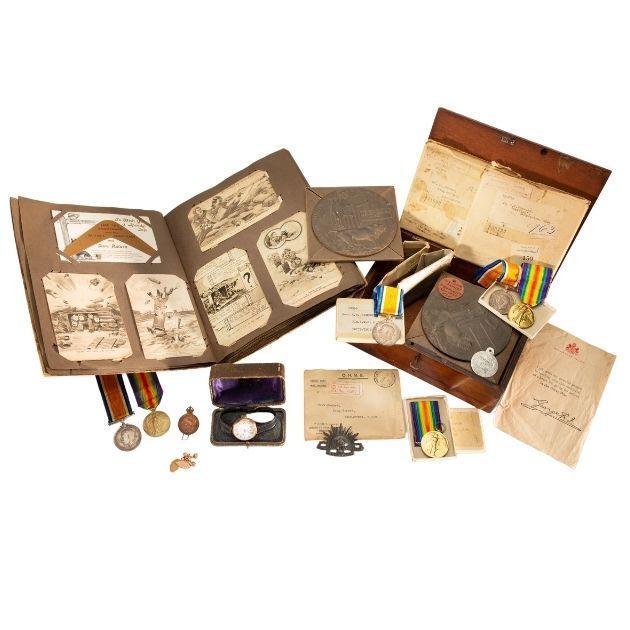 Historical note:
Few collections in the Anzac Memorial include as many members of the one family, spanning several generations, as the Haskew and Spencer Family collection.
These extraordinary artefacts tell an important story about the service of men from country New South Wales, the units that they served in and the battles in which they fought.
The collection includes the medals, postcards and personal effects of 1758 Sgt George Haskew, 56th Battalion AIF as well as the engraved wristwatch presented to him by his employer and fellow workers in Narrandera upon his enlistment in 1916.
An album of almost 150 postcards between George Haskew and his sister, Emily written between 1916 and 1919 emphasise the importance of family during these conflicts.
The memorial plaques and medals of George Haskew's older brother, Gunner 28966 Herbert Selwyn Haskew, 2nd Division Medium Trench Mortar Battalion and their friend and uncle 1730 Private Harold William Spencer, 56th Battalion are a poignant reminder of the sacrifices many families also suffered.
Badges belonging to NX161889 Cpl. Henry Charles Haskew, 2/9th Commando Squadron, 2nd AIF underline the continued service that was a feature of this extraordinary family.
Materials:
medals, memorial plaques, badges, photographs and memorabilia
Conflict:
First World War; Second World War