Image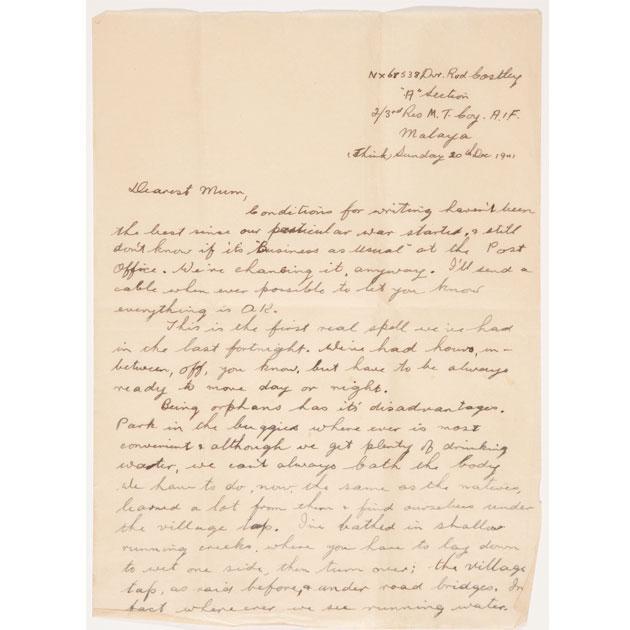 Historical note
A 34-year-old truck driver with 2/3rd Motor Transport Company, Private Rod Costley wrote this letter to his mother, Bertha, from Malaya in the days before Christmas,1941.
Costley and his mates were providing support for British and Indian troops as they fought their way back to Singapore in the face of an overwhelming Japanese force. In the letter Costly shares none of the tension and terror of enemy attack or dismay at the discomfort of his circumstances. 
Costley and over 400 men of the 2/3rd Res MT Coy made it to Singapore. From Singapore they were ordered to Java where they fought on until captured when the island fell to the Japanese in March 1942.
He and his mates were sent to the Burma Thailand railway construction camps by their Japanese captors. They laboured in dangerous conditions with meagre rations under brutal guards. In August 1943, a then-36-year-old Costley succumbed to disease and died in a camp by the railway in Burma. 
The letter, dated 20th December, reads:
"Dearest Mum, 
Conditions for writing haven't been the best since our particular war started, I still don't know if it's "Business as Usual" at the Post Office. We're chancing it, anyway. I'll send a cable when ever possible to let you know everything is O.K. 
This is the first real spell we've had in the last fortnight. We've had hours in-between, off, you know, but have to be always ready to move day or night. 
Being orphans has its disadvantages. Parkin the buggers where ever is most convenient and although we get plenty of drinking water, we can't always bath the body. We have to do, now, the same as the natives, learned a lot from them and find ourselves under the village lap. I've bathed in shallow running creeks, where you have to lay down to wet one side, then turn over: the village tap, as said before, and under road bridges. In fact wherever we see running water."
Category
Diaries and personal papers
Conflict
Second World War (1939-1945)
Production Date
20 December 1941