Image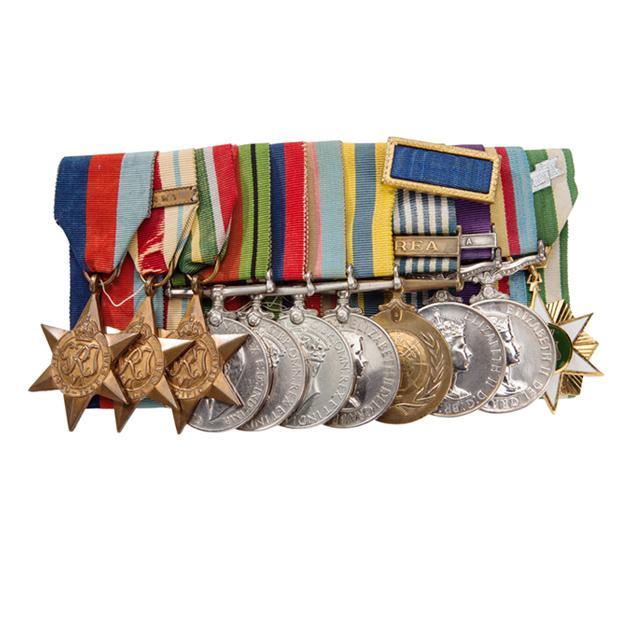 Historical note
Alexander Lavell was just 20 years old when he enlisted for overseas service during the Second World War. As a gunner with the 2/12th Field Regiment, Lavell saw action in North Africa at El Alamein and within the Pacific theatre. In the closing months of the war, Lavell's regiment moved to provide fire support for the campaign in North Borneo, engaging in a series of successful assault tactics never before employed by the Australian army.
Re-enlisting with the 3rd Battalion, Royal Australian Regiment (3RAR), during its occupation tour of Japan, Lavell redeployed to Pusan, South Korea in September 1950. During the conflict, Lavell took part in the famous battles at Maryang-San, Pakchon and Kapyong; the latter for which 3RAR was awarded the US Presidential Unit Citation. Following the armistice on 27 July 1953, 3RAR was tasked with training and border patrols until their return to Australia in November of 1954.
Within two years, Lavell redeployed with 3RAR in the Malaysian Emergency (1948–1960) and, ultimately, served as a military instructor in South Vietnam for two years during the Vietnam War (1962–75). Throughout and following his distinguished military career, Lavell celebrated the duality of his identity. Marching each Anzac Day beneath the 3RAR banner, Lavell walked proudly as both an aboriginal soldier, and member of that battalion. 
Lavell's medal group is on display in the Memorial's permanent gallery. Reading from left to right, the group comprises:
The 1939-45 Star; the Africa Star; the Pacific Star; the Defence Medal; the British War Medal; The Australian Service Medal; The Korea Medal; the United Nations Service Medal with bar "KOREA"; the General Service Medal (1918-64) with bar "MALAYA"; the Vietnam Medal and the South Vietnam Government Medal with clasp "1960-". Pinned above the Korean War medals is the blue ribbon brooch with gold boarder of the US Presidential Unit Citation (PUC). 
Materials
gilt metal, silk, [nylon]
Conflict
Second World War (1939-1945)
Production Date
c. 1939-75