Australia sent over 50,000 defence personnel to serve in South Vietnam and its surrounding waters between 1962 and 1973. It was a controversial politico-military commitment which led to 519 Australian deaths and over 3,000 men were evacuated home with wounds, injuries or illnesses.
A largely forgotten part of those personnel were the female nurses who served during the conflict; some went overseas to treat casualties on the frontline, whilst many dealt with the wounded who were later sent back home.
Image
Photo: The first group of Australian Army nurses of 8th Field Ambulance to arrive in Vietnam in May 1967. From left to right; Lieutenant Colleen Mealy, Lieutenant Margaret Ahern, Captain Amy Pittendreigh, Lieutenant Terrie Roche. AWM P00582.045.
The first group of Royal Australian Army Nursing Corps (RAANC) nursing sisters deployed to Vietnam in May 1967 were led by Captain Amy Pittendreigh. In total forty-three women volunteered to serve their country as army nursing sisters between May 1967 and November 1971. Before leaving, the nurses did not receive any specific training or practical information to prepare them for their daunting task; to perform nursing duties in a primitive, tropical war zone that until then had been carried out by male Army medical assistants and orderlies. And despite the Vietnam War being the first major 'televised war', in later oral histories, the women all agreed that they had had no deep understanding about why the war they were sent to, was in fact being waged. All however were dedicated and devoted and served with great courage, resilience and resourcefulness.
They were also crucial, in maintaining the wounded soldiers morale.
Image
Photo: South Vietnam, November 1968. A nursing sister attends to a soldier lying on a hospital bed in the outdoors. AWM EKN/68/0121/VN.
Undertaking a tour of twelve months, the first four nurses (playfully dubbed the 'fab four') served with the 8th Australian Field Ambulance then stationed at the Australian Logistic Support Group compound at Vung Tau, a coastal resort 60 miles south-east of Saigon. Shortly after they arrived, a New Zealand army nurse, Margaret Torrey joined them. In April the following year, the 8th Australian Field Ambulance transitioned into the 1st Australian Field Hospital which remained operational until late in 1971. The hospital specialised in fast treatment for Australian casualties and was connected to the Nui Dat task force by US ambulance helicopters.[1]
Countless lives were saved in Vietnam by the ability to evacuate casualties from forward areas quickly, often within an hour of men being wounded or injured. The nursing work was very demanding however and the hours long; on a routine week the nurses worked twelve-hour shifts, six days a week, earning two-thirds of what a male officer of similar rank earned.[2]
Image
Photo: The helicopter landing area known as Vampire Pad and the covered walkway to the Triage area of the 1st Australian Field Hospital. AWM P05104.042.
'Most people see amputated limbs as nice rounded finished-off stumps. We didn't get that. We had the ragged ends.'
— Fay Lewis, Australian Army Nurse [3]
With regular dust-offs coming in and landing on the so-called 'Vampire Pad', the ill-equipped, understaffed theatre at Vung Tau was always busy. The medical team stationed there dealt with gunshot, grenade and shrapnel wounds, bomb blast wounds and burns, but some of the most horrifying damage, what the nurses referred to as 'traumatic amputations' were caused by land mines. As Paul Ham explains:
'…mines were the curse of Australia's last years in Vietnam. The wounds horrified the medical teams; M16 jumping jacks – most of them lifted from the Australian minefield – caused more than 50 per cent of Australian casualties between September 1968 and May 1970, the height of the mine war... Mines were invisible, hidden, loathsome killers; they disabled, disembowelled and emasculated…'[4]
Working near a war zone was a far cry from the sanitised civilian wards and well-equipped military hospitals the women were familiar with at home. Clean water was scarce, power outages were common and facilities for medical incineration almost non-existent; amputated limbs and human waste were often, and distressingly carried off by native dogs. Caring for horrifically injured soldiers straight from the frontline, understaffed, and with only very basic resources, the conditions were like nothing they had ever experienced before. As Terrie Roche later recalled, 'You didn't look after malaria or bomb injuries or people with shrapnel wounds back in the wards at home.'[5]
Civilian and Volunteer Nurses
As well as the deployment of RAANC nursing sisters, more than 200 civilian nurses from around Australia were members of the South-East Asia Treaty Organisation (SEATO) surgical medical team that operated in Vietnam between 1964 and 1972. They worked in provincial hospitals supporting and assisting local hospital staff and they deployed for three to twelve months; some of them went more than once.[6]
Twenty-two Australian Red Cross volunteers also worked with the medical staff in Australian and American hospitals in Vietnam; nineteen of them were women.
RAAF Nurses
Image
Photo: The front of No. 4 Royal Australian Air Force Hospital. AWM P02017.002.
Between 1965 and 1972, an additional 106 nursing officers from the Royal Australian Air Force Nursing Service (RAAFNS) were deployed to the No. 4 Hospital at Butterworth Air Force Base in Malaysia to care for the military personnel based there.[7] They also flew medevacs into Saigon, Bien Hoa and Vung Tau, transporting wounded Australian soldiers back to Butterworth and then on to Sydney, via Darwin.
These evacuations played a crucial role in increasing battlefield casualty survival. Indeed, the Vietnam War, with its dust offs and rapid helicopter evacuations marked the medical treatment of casualties as uniquely distinct from previous wars; during the Second World War for example, 8.5 per cent of casualties died after reaching hospital yet in Vietnam, by contrast, the figure was less than 3 per cent. Sadly, on occasion however, the flag draped coffins of fallen Australians were also transported home with the injured men.
Image
Photo: A RAAF Nursing Sister, N217164 Squadron Officer Harriett Hardy Fenwick, of Sydney, NSW adjusts the litter strap of an Australian Army casualty as he is flown to Australia from Vietnam. AWM MAL/65/0083/03.
Hospitals at Home
Many Army nurses at home were kept equally busy by Australia's involvement in Vietnam. By 1 January 1966, some 112 casualties, both sick and wounded had been flown out of Vietnam by the RAAF and brought home on C-130 Hercules transport couriers.[8]
For the rest of the conflict, this became a weekly practise. Accompanied by nursing sisters and medical orderlies, the aeromedical evacuated casualties were off-loaded at Richmond RAAF Base in NSW via Butterworth, Malaysia. From here, they were transferred by ambulance to the care of Army medical authorities, notably to the Repatriation General Hospital at Concord and to the Army base hospital at Ingleburn in NSW.[9]
Ingleburn Army Camp
Ingleburn Army Camp south-west of Sydney became a significant Army training centre during the Second World War. Between 1951 and 1972 it served as a major training camp for the National Service Scheme.
During the Vietnam War, the 1st Field Hospital was deployed overseas to Vung Tau whilst the 2nd Military Hospital (known as '2 Mil Hospital') received casualties of wounded soldiers who had been evacuated from Vietnam. Many of them arrived home with wounds packed and dressed in the theatres of the 1st Australian Field Hospital in Vung Tau; upon arrival they would have the next stage of their surgery in the 2 Mil theatres to complete those preliminary treatments. Others required ongoing surgery to further repairs and/or reconstructions already begun. Patients at Ingleburn remained there until they were well enough to return to their home state, at which time the army organised commercial flights home for them accompanied by a Nursing Corps officer.
Lieutenant-Colonel Mary Gillespie
Mary Gillespie from Goulburn joined the Royal Australian Army Nursing Corps in 1954. Commissioned as a Lieutenant, she served until 1972, when she retired with the rank of Lieutenant-Colonel. During her service in the 1960s and early 1970s, she worked at 2 Mil Hospital at Ingleburn Army Camp and looked after many injured and incapacitated servicemen who had returned from Vietnam. Following eighteen years of military nursing, Mary left the army and was later appointed as the first Director of Nursing (Matron) at the newly built Woden Valley Hospital in Canberra.
Gillespie's Uniform
Mary Gillespie very generously donated her army nursing uniforms (both summer and winter) to the Anzac Memorial in 2010. They are indicative of Army nursing since Federation with their traditional and very recognisable colours of grey and scarlet. In the 1970s however, the grey and scarlet was replaced by a green uniform called among other names 'the Kermit suit' by those who were reluctant to wear it and averse to forego the very long tradition of the distinctive colours of the Australian nurse.
Image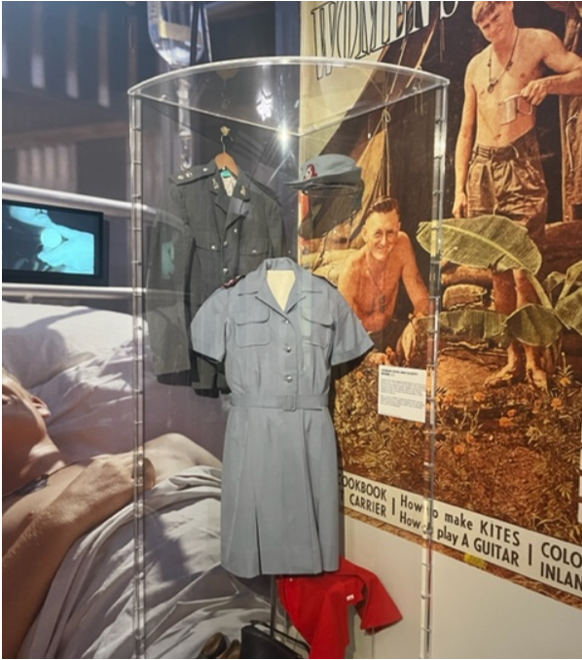 Image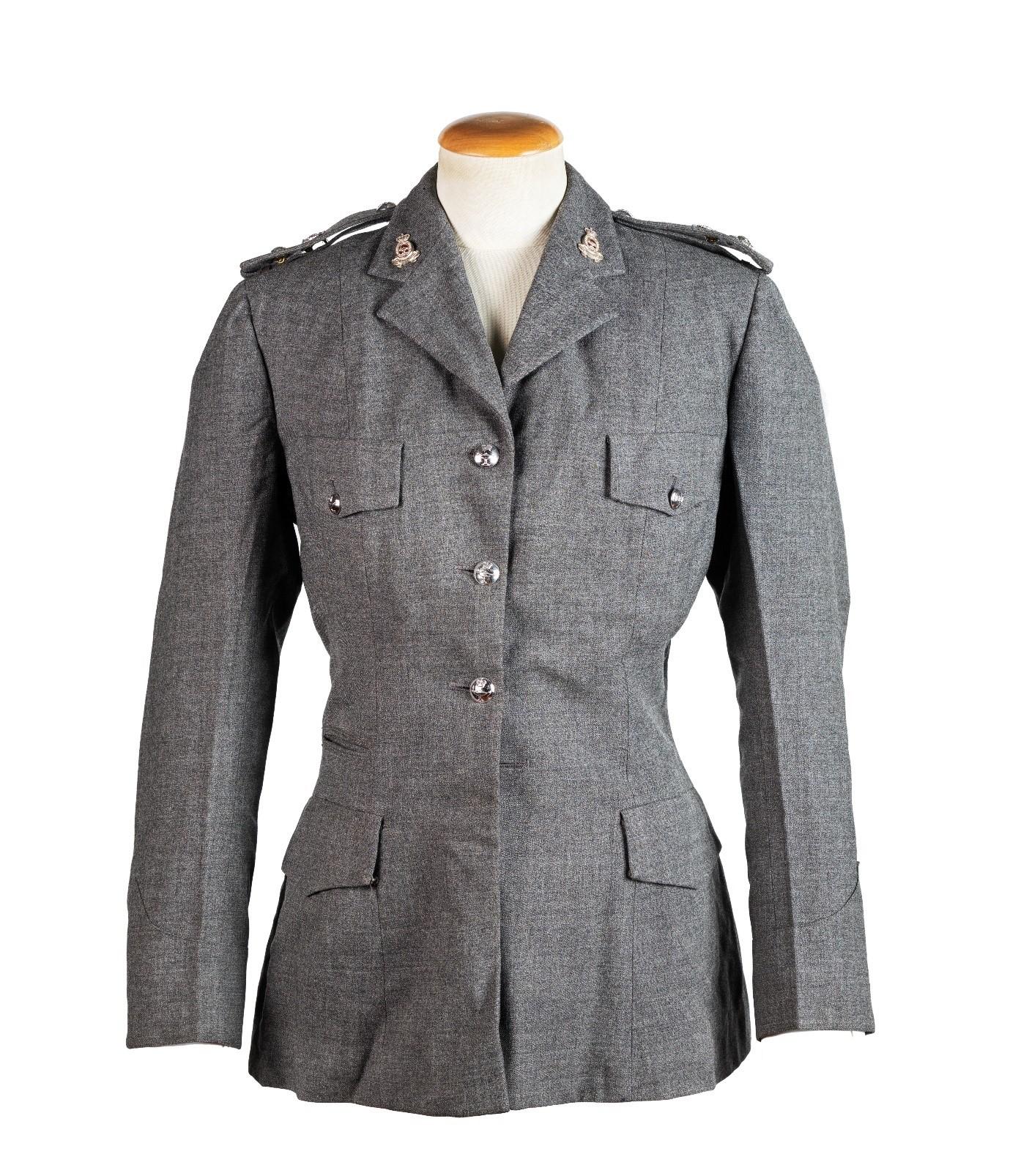 Above: Mary Gillespie's summer dress and grey wool winter uniform are currently on display in the Anzac Memorial's 2022 exhibition, Remembering Australia's War in Vietnam, 1962-72. The winter uniform was made by the long-established uniform making firm Evers and Cohen in Sydney. Anzac Memorial Collection.
In the 1980s a further change occurred when all Army females were required to wear the same khaki uniform as the males. One concession made was the addition of a skirt to the female issue. Yet with the change, the starched white veil, stockings and ward dresses Australian nurses had been required to wear in battle zones up to and including the Vietnam War were also discarded. Some nurses were dismayed, others utterly liberated; the veil and stockings in particular were recalled by many as having been little more than an unwanted encumbrance in the tropical steamy climes of South Vietnam.
Today military nurses wear disruptive pattern, boots and slouch hat. Army nurses are also issued with weapons, which was certainly not the case when Mary Gillespie was a serving nurse. Military nurses are now members of the Australian Defence Force (ADF) and with a high level of specialist training and improved technology, they continue to provide essential medical treatment to those wounded in war. Nurses are also deployed in tri-service, peacekeeping and humanitarian operations providing care to local military personnel and civilians in countries ravaged by war or natural disasters.
Notes
'Goulburn Sister in Vietnam', The Canberra Times, Monday 8 May 1967, p 6.
By contrast the more than 7,000 American nurses sent to Vietnam earned equal pay to their male counterparts.
Cited in Paul Ham, Vietnam; The Australian War, Harper Collins, 2008, p 501.
Paul Ham, Vietnam; The Australian War, Harper Collins, 2008, pp 501-03.
Cited in Annabelle Brayley, Our Vietnam Nurses, Penguin, Random House Australia, 2018, p 102.
Annabelle Brayley, Our Vietnam Nurses, Penguin, Random House Australia, 2018, p xvii.
Thirty-two RAAFNS sisters served with the US Air Force Aero Medical Evacuation Squadron (AMES), based at the Clark Air Base in the Philippines between 1966 and 1971. These were usually 60-day assignments and they gave the nurses large-scale medevac war experience.
'Flying Out the Wounded', RAAF News, Saturday 1 January 1966, p 7. These evacuation flights were undertaken by 37 Squadron, based at Richmond in NSW; during the war some 3,164 battle and non-battle casualties were evacuated.
It was renamed Concord Repatriation General Hospital in 1993.