To commemorate the 70th Anniversary of the Armistice of the Korean War, a new exhibition at the Anzac Memorial honours the service and the sacrifice of Australian Korean War veterans. The exhibition features the photographs and the stories of 11 veterans, with photography by Mr Tae Yun.
This project is hosted by the Consulate General of the Republic of Korea in Sydney in collaboration with the Anzac Memorial.
Image
Kevin John Bineham
Army
Staff Sergeant Kevin John Bineham (Johny), enlisted in the Army at the young age of 18. He was posted as an Infantryman to 3RAR in Korea, on 1 June 1953. After discharge he served with 1 Commando Company, Georges Heights. He later rejoined the Regular Army to serve in the Indonesian Confrontation with the Royal Australian Engineers, then later in the Vietnam War with 1 Divisional Intelligence Detachment. After discharge he then served with 2 Intelligence Unit, Moore Park. Now he enjoys active pursuits such as art, writing, and ballroom dancing.
Image
Raymond Lewis Burnard AM
Army
Brigadier Raymond Burnard was born and educated in the UK and immigrated to Australia in 1948. After graduating from the Royal Military College, Duntroon, he served in the Korean War as a Platoon Commander with 3RAR from February 1953. After Korea Burnard continued his career in the Army, and was an original member of the SAS. Burnard is a member of the Order of Australia and enjoys an active retirement in the Southern Highlands of NSW.
Image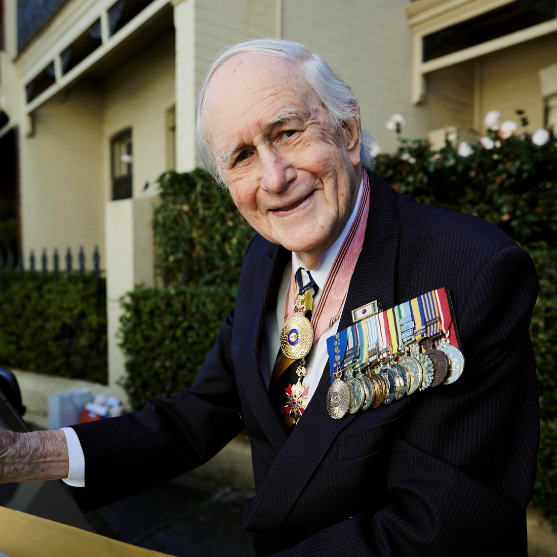 Ian Mclean Crawford AO AM (Mil)
RAN
During the Korean War, Rear Admiral (Ret'd) Ian Mclean Crawford AO AM (Mil) served as an 18-year-old Midshipman on HMS Ceylon, a British light cruiser. The ship's first commitment was to transport British troops from Hong Kong to Busan. Throughout Ceylon's service in the Korean War its main task was to provide naval gunfire support for shore operations and provided cover for amphibious landings and evacuations. He served 40 years in the Royal Australian Navy, ultimately retiring as a Rear Admiral. He actively promoted the establishment of the Australian National Korean War Memorial in Canberra to honour Korean War service and sacrifice.
Image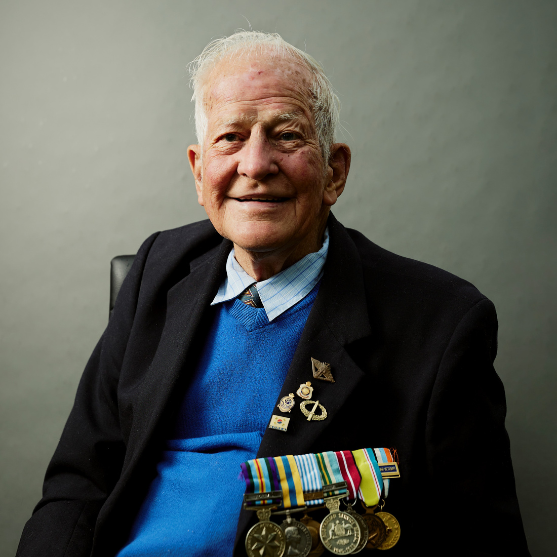 Ernest Robert Holden
Army
Private Ernest Robert Holden was just 20 when he deployed to Korea with the 2nd Battalion, The Royal Australian Regiment (2RAR) between March to May 1953. During the war, he was wounded in a minefield while trying to rescue injured mate Corporal Jack Ashe, who is still missing in action. Mr. Holden is passionate about aviation and makes model aircraft as a hobby.
Image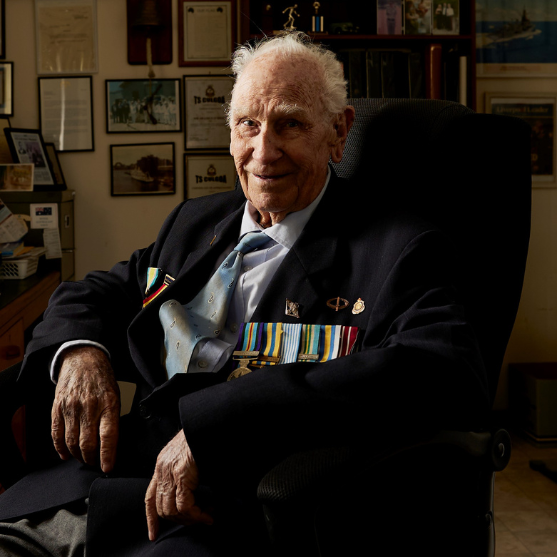 Ronald Charles Lovell
Army
Private Ronald Charles Lovell served in 3RAR from December 1952 for about a year. He saw action in the Samichon Valley then five months of garrison duty after the Armistice. He is a good friend of another Korean War veteran Mr. O'Brien, who he met in 1962. He says that if the war were to break out again in Korea, he would gladly fight for Korea once again.
Image
Sheridan O'Brien
RAN
Leading Seaman Sheridan O'Brien served on the RAN frigate HMAS Culgoa in Korean waters in 1953. Culgoa provided naval gunfire support close inshore on at least two occasions and spent the rest of her deployment patrolling. After the war, Mr. Lovell and Mr. O'Brien volunteered as welfare people to help ex-servicemen and women. They have kept their friendship for more than 50 years. Mr. O'Brien says he could not ask for a better friend than Mr. Lovell.
Image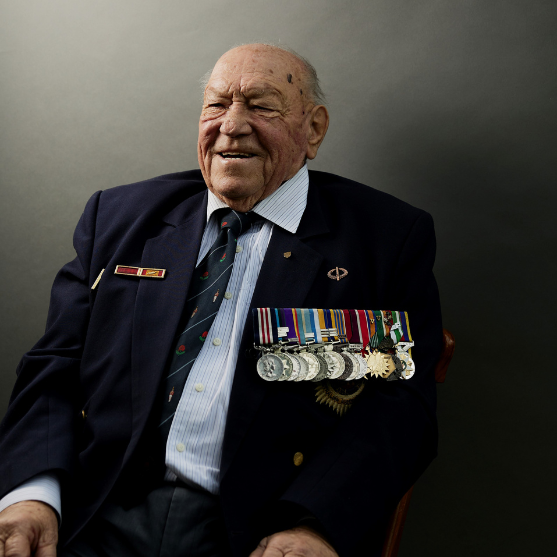 Raymond Ivan Oliver MM
Army
Private Raymond Ivan Oliver served on garrison duty with 1RAR from December 1955 to March 1956 following the Armistice. He continued his service in the Army for the next 33 years, serving in the Malaya Emergency and two tours in Vietnam with the Australian Army Training Team Vietnam (AATTV) where he was awarded the Military Medal for bravery in the field. As a huge fan of Korean food, he often visits Korean Barbeque restaurants.
Image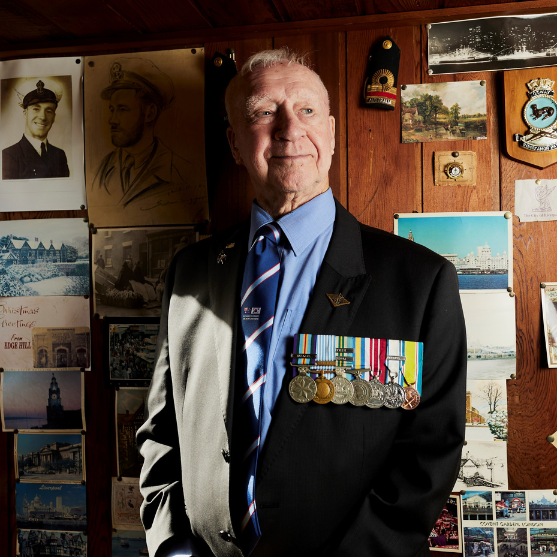 James Reardon
RAN
Assistant Steward James Reardon served aboard the aircraft carrier HMAS Sydney in Korean waters after the Armistice from October 1953 to June 1954. He had immigrated to Australia from the UK at the age of 17. After the war he worked as a marketing reporter for the NSW Department of Agriculture, and has dedicated a considerable amount of time volunteering for his local RSL.
Image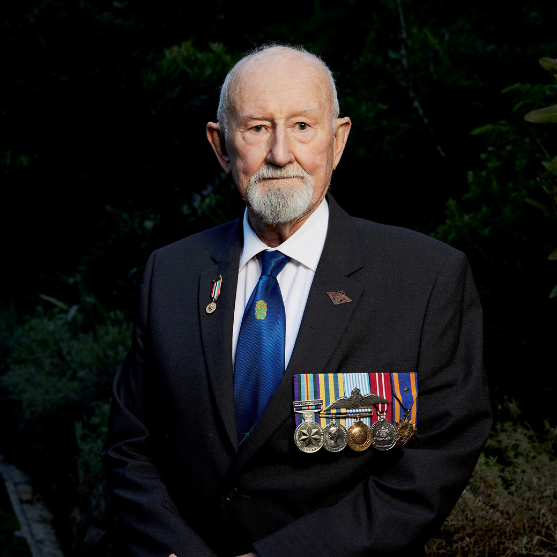 Spencer Raynor Seaver
77 Sqn RAAF
Sergeant Pilot Spencer Raynor Seaver was posted to No.77 (Fighter) Squadron RAAF. He flew sorties out of Kimpo from January 1953 in Meteor jets. Seaver was retrospectively awarded the US Air Medal for the number of combat patrols he flew over enemy territory. From 1956 to 1983 Seaver worked as a civilian pilot for Qantas Airways. He is now living in a retirement village with his wife.
Image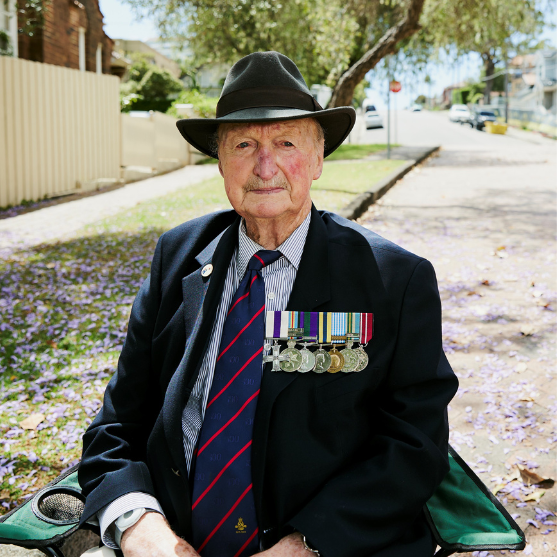 Jack Harold Skipper MC
Army
Lieutenant Jack Skipper was posted to the Korean War with 1RAR for 12 months after graduating from the Royal Military College, Duntroon. He earned his Military Cross for "courage and devotion to duty" while commanding a fighting patrol that engaged with the enemy three times in no-man's land in 1952. After serving in Korea, Jack returned to Haramura Battle School in Kure, Japan, as an instructor.
Image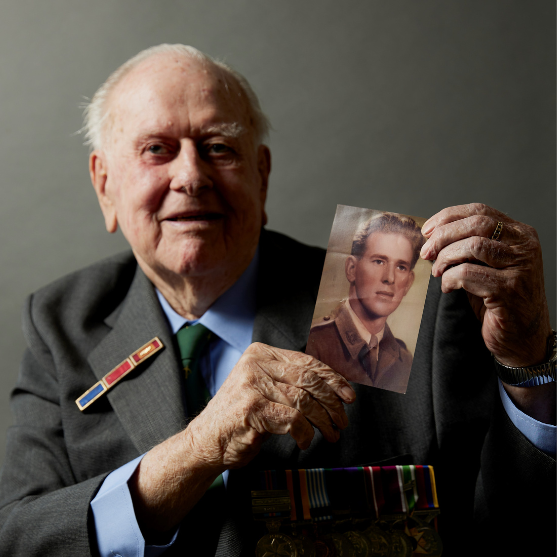 Joseph Vezgoff
Army
Corporal Joseph Vezgoff served as a Section Commander in a rifle company of 3RAR in the Korean War from September 1950 to October 1951. He fought in the legendary battles of Kapyong and Maryang San. Vezgoff was badly wounded at Maryang San only days before he was due to rotate home, having served over 370 days in the Korean War. After the war, Joe served in the Army for 20 years. He has always nurtured a passion for drawing and until recently, due to failing eyesight, has continued to be active in painting and involvement with local art societies.